STELLAR VBS

Monday, June 5 - Friday, June 9
8:45am - 12:15pm
Ages 3-Rising 6th Grade
Online Registration opens April 1st
**Must be 3 years old by June 1st. 3 year olds and 4 year olds must have a parent or guardian volunteering on campus. 3 years must be potty trained.**
Launch kids on a cosmic quest where they'll have a blast shining Jesus' light to the world. Stellar rockets kids on an out-of-this-world adventure that's light years of faith-building fun.We are so excited for this year's VBS. Make an impact in the life of a child by volunteering!
Be a ....
CREW LEADER (Preschool or Elementary)

STATION LEADER (Imagination/Science, Bible Adventures, Games, KidVid Cinema & Snacks! We have separate stations for Preschool & Elementary)
REGISTRATION

SECURITY

DECORATING
PHOTOGRAPHY/VIDEOGRAPHY
PREP & SET UP
TAKE DOWN
This community event needs many hands and many talents. There is a place for you! Contact Mrs. Jenna today at or 334.733.0003. or
CHECK out this year's Spirit Days!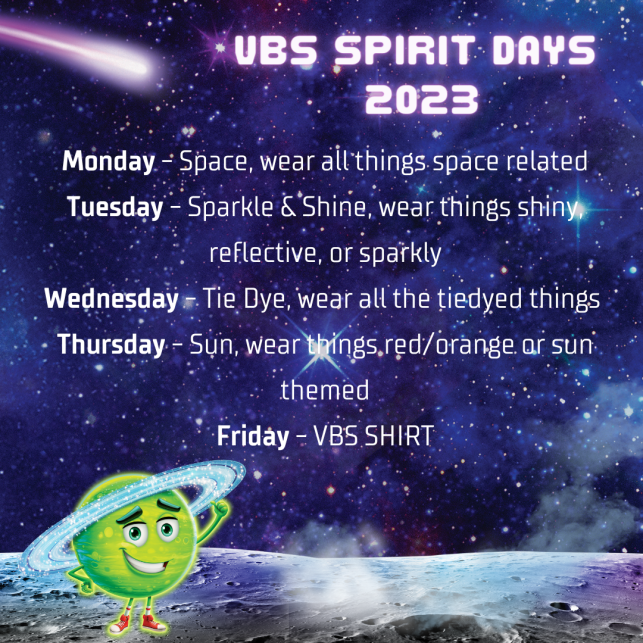 SHOW YOUR VBS SPIRIT! Dress your kids in the spirit theme for the day throughout the week! Colored socks, bows, shirts, shorts, tutus.... whatever you have that shows the spirit theme and creates a team atmosphere! This encourages a spirit of fun and helps our crews bonds. Have fun with this and encourage your kids to as well!
Worried you don't have a lot of things in your child's closet? No problem! All kids will receive a wristband to identify them throughout the week.
** This year, VBS will feature mixed age groups for children in 1st-4th grades. Please make sure to fill out at least one friend request by May 1st to help us with placing children!
REGISTRATION OPENS APRIL 1st
Important Dates for Volunteers
ALL VOLUNTEER TRAINING …
Sunday, May 21 | 12:15pm (lunch served) | CLC Fellowship Hall
DECORATING … Every year, our buildings are transformed for VBS! This does not happen overnight and we need LOTS of help to make it happen! We can use all hands on on deck! To sign up to volunteer or help in this area, contact Jenna Hood at
Monday, May 22 | 9:00am-12:00pm | downstairs, education building
Friday, June 2nd | 9:00am-12:00pm & 1:00-3:00pm | CLC & education building
Saturday, June 3rd | 9:00am-12:00pm & 1:00-3:00pm | CLC & education building
Background Check Form for Volunteers

To comply with our Safe Sanctuaries Policy, all volunteers 19 years & older must have a current background check on file. This form must be completed and presented with your driver's license & social security card in the church office no later than Friday, May 17. Approved background checks are valid for 5 years. If you need to verify whether or not you are current, call Martha at 928.1148. Click on the link above to download the authorization form.