Nursery Ministries for Infants & Toddlers
NURSERY
Our nursery is now open during our three worship services on Sunday mornings. The number of children is limited and reservations are required. Each service will allow (5) children ages 3-17 months and (8) children ages 18 months-4 years.
You will need to make 2 separate reservations: one for worship and one for nursery! Reservations open each Sunday at 4:00pm on the church website for the next Sunday's services. CLICK HERE!
Things to Know … In an effort to reduce germs, there will be a 10 minute sanitation period between services. Temperatures will be checked upon arrival (staff and children). Masks will be worn by staff. Please help us by not bringing anything in with your child, except a bottle or pacifier, as needed. We will provide diapers and wipes.
If you have questions, please email Tina Wettermark, Director of Nursery Ministries, at .
Our nursery is staffed with loving and caring nursery workers. The nursery is available for infants 3 months of age and toddlers through age PK4 years during worship services, on Wednesday nights, and for special meetings or programs that require care for infants and young children. CPR trained, our nursery staff is eager to make your child's experience at Fairhope United Methodist Church a secure and happy one.
Reservation Nursery
A ministry for parents of children 6 months - 3 years of age, meets each Friday from 9am - 1pm. Reservations are made on a monthly basis. For more information or to make reservations please contact Tina Wettermark,
928-1148, ext. 234 or .
*Reservations are required at least 48 hours in advance by email to . Cancellations may be sent via email. Thank you for aiding us in providing a well-staffed and safe nursery environment for your precious children.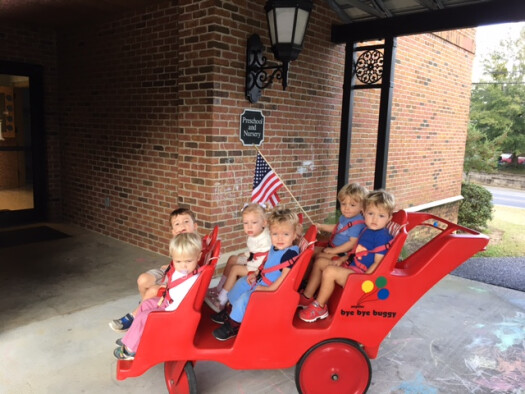 ---